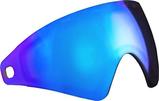 VIRTUE VIO LENS - CHROMATIC ICE
Original price
$44.95
-
Original price
$44.95
The Virtue VIO lens platform delivers optically advanced performance for a lower price the competitor. When you buy a VIO goggle, you not only get a better performing goggle, but an overall lower cost of ownership thanks to lower replacement lens costs. But make no mistake, by investing in a VIO, you're getting the finest quality construction and performance that exists. We've only slashed lens prices to help make it easier on players to freshen up their lenses and play with a like-new goggle as often as possible. Starting from just 29.95 there is no excuse to not use a fresh lens or even carry multiple options in your gear bag. 
Superior Optical Technology
Distortion Free Optical Clarity
100% UV Protection
Hard Scratch-Resistant Coating
Anti-Reflective Coating
Anti-fog Hydrophobic Coating
Dual Pane Thermal Construction
Advanced Chromatic Coating: Multi-layer, scratch resistant chromatic coatings increase eye comfort without affecting color appearance.